Jo Enright @ the Comedy Exchange, Friday 13th April 2018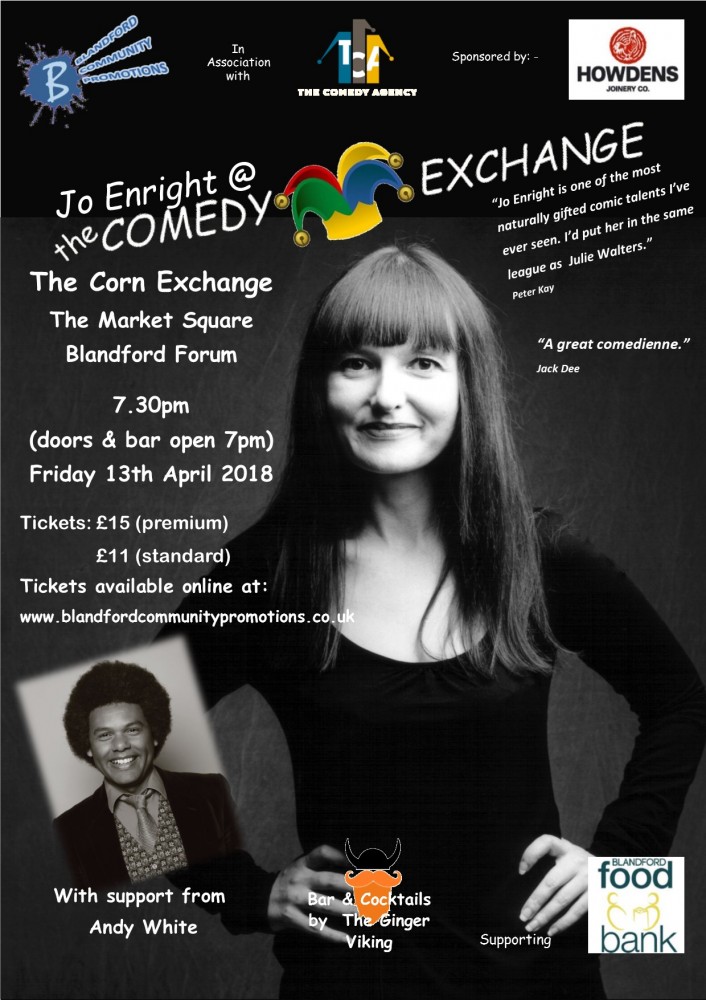 Join us at the Comedy Exchange, for an evening in the presence of one of the best character actors and comic stand-ups around along with support act, Any White.
Tickets will go on sale mid February so keep you eyes peeled and this page bookmarked. Do miss out on this oppertunity, right here in the Corn Exchange, Blandford Forum, Dorset.
Jo Enright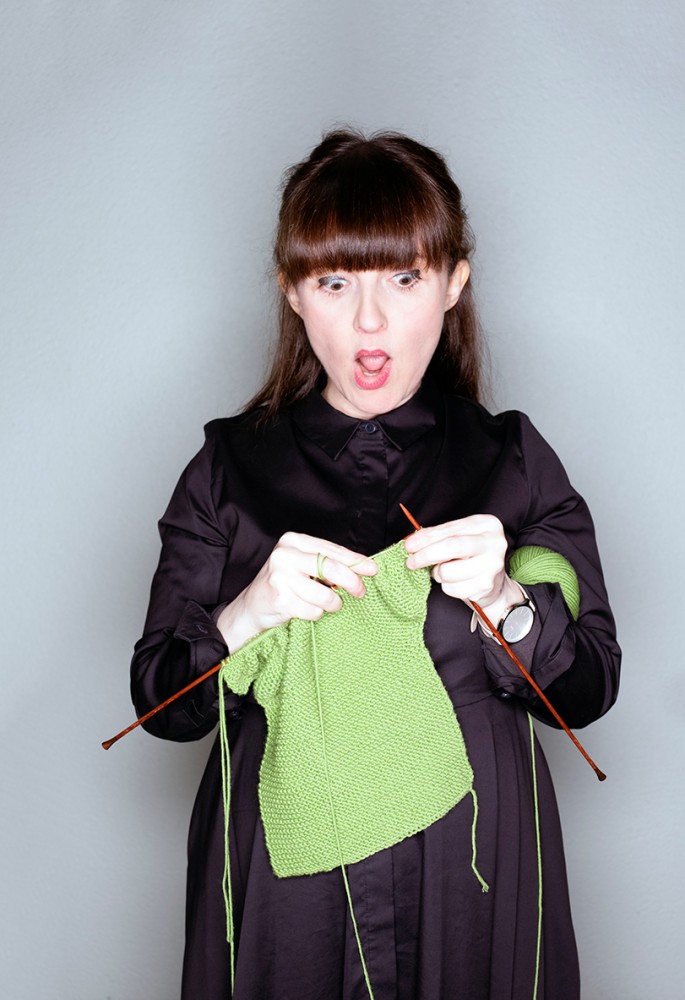 Most recently seen playing the part of 'Angela' in ITV Sitcom The Job Lot, Jo Enright has starred alongside Steve Coogan in I'm Alan Partridge and with Peter Kay in Phoenix Nights. Other recent comedy roles include in BBC Two Sitcom Lab Rats playing the part of Cara and on BBC/HBO's Life's Too Short as Warwick Davis' wife Sue. For more than a decade now the highly acclaimed comedienne Jo Enright has crafted a completely unique style of stand-up comedy. As well as accepting numerous invitations to perform it both on television and radio, Jo also thrives on live theatre performances, for which she has won several comedy awards including the 2002 Chortle Award for 'The Best Female Circuit Comic.' and 2001 Best Female on the Jongleurs Comedy Circuit award.
"One of the most naturally gifted comic talents I've ever seen." Peter Kay
"One of Britain's best character actresses." The Independent. (Grace Dent)
Andy White
Andy White is an energetic, confident and silly Brummie who combines silly voices and a mad afro to devastating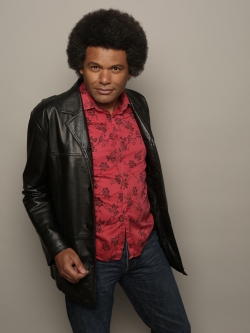 comic effect. Andy has numerous media appearances, including the BBC New Comedy Awards on BBC Choice, Brand Spanking New on BBC Radio 7 and his winning performance on the Weakest Link comedian's special! His appearance on the BBC quiz show featured in his five star (* * * * * Three Weeks) Edinburgh show, 'It Started With A Quiz' in 2007. This followed on from his well-received one man show at the 2005 Leicester Comedy Festival: Young, Gifted and Beige. Most recently he featured in the Vote Now Show on BBC Radio 4 during the 2017 General Election campaign.
Andy escaped from a call centre to become a stand-up comic who mixes silly voices and faces with observational humour, topical humour and his mixed race background. He can do material that's clever, cheeky, sick or just silly and his performance can shift from deadpan to loud and physical. Andy has played to a wide variety of audiences, adults and children, both at home and abroad, in comedy clubs, theatres, universities, radio and TV shows, and at corporate entertainment events. He regularly headlines up and down the UK and has worked with all the major chains and comedy promoters along the way. Overseas, he's performed in Monte Carlo (Laughing Horse), Berlin (Bleu Montag), Abu Dhabi and Dubai (Laughter House) amongst others.
"Had me exercising my pelvic floor muscles to avoid an accident" Karen Slater, BBC Tees
"Undeniably entertaining" Chortle.co.uk
"Oozes talent" What's On Magazine
"The laughs turned to applause many times for Andy" Suzanne Worthington, BBC Cumbria